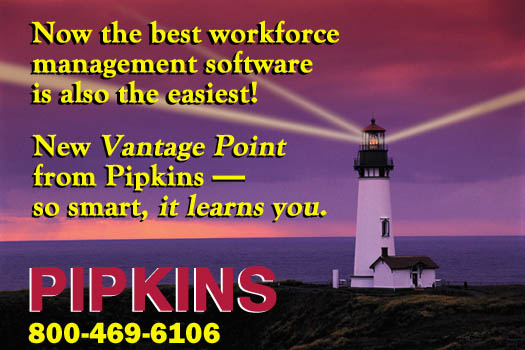 Simply, the Most Accurate Workforce Management Product on the Market
Pipkins is the leading supplier of workforce management software, providing sophisticated forecasting and scheduling technology. Vantage Point™, our premier product, features comprehensive scheduling, forecasting, and planning functionality for complete enterprise-wide multi-site call center workforce management. It is coupled with the power of an Oracle database and the Windows NT, XP and Linux operating systems.

Experience the Pipkins Advantage With:
Increased Bottom Line ROI for Companies
Decreased call center costs are achieved through accurate staffing and improved agent performance. Improved agent performance results in increased customer service and customer retention. Higher agent retention reduces costs of recruiting and training. The bottom line is cost savings to companies.

Increased Agent Satisfaction
Pipkins' WEB access module is a favorite with agents because it allows them to manage their schedules online. The module enables agents to submit time off requests and schedule swaps without supervisory input. The vacation planning feature also allows online viewing of vacation time requested, used, and remaining.
Only Pipkins Offers:
Automated, Fully Customizable Functionality
Pipkins' software can be customized to user specifications and provides single click or fully automated functionality.

Real-Time Agent Adherence PLUS, A Breakthrough Visual System for At-a-Glance Agent Monitoring in Single or Multiple Sites

Frees Supervisors from Desks, Enables One-Click Edits Vantage Point™ Real-Time Agent Adherence PLUS, a new graphic edition of its agent adherence module that eliminates the need for contact center supervisors to sit at their desks studying text-based adherence reports. The PLUS edition is an optional upgrade to the adherence module of Pipkins' Vantage Point™ workforce management software and is a user-driven solution. The Global edition allows adherence monitoring across multiple sites from a centralized location. RTA Global offers one click viewing of seating charts and non-adhering agents in any location.
Workforce Management is all we do and it shows.
Advanced forecasting with Merlang™ algorithms Scheduling in Skill-Based environments
Easy to use point-and-click graphical Schedule Management tools
Comprehensive Analysis and Reporting capability
Complete Multi-site Management
Attendance Preferences
Support for Multi-media environments; email, fax, chat, outbound
Real-Time Adherence monitoring
Scenarios (Perform "What-If" operations)
Filters (data can be filtered to many levels for easier management)
Linked shortcuts (perform repetitive operations automatically or with a single click)
Scheduling Reoptimization
v
Timed reports
Automated Data Exports
WYSIWYG (What you see is what you get) Report Distribution
Agent Productivity/Statistics Reporting
Automated Spread Sheet Integration Tool

Hosted Workforce Management

Pipkins offers WorkforceScheduling.com, a hosted, low cost, subscription-based solution for managing your call center workforce that allows you to "pay as you grow". There is no hardware to install and maintain, no long-term commitment required, and little or no IT requirements. You also receive the same powerful features as our enterprise solution, customizable access to only the functionality you need, complete integration with your ACD, and scalability to meet your growing needs.
We invite you to join other leading companies from around the world who have selected PIPKINS to help manage their contact centers. Companies like British Telecom, QVC, Federal Express and many others rely on PIPKINS. And so can you! Contact us at 800-469-6106 or visit www.Pipkins.com.